KERALA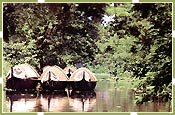 Kerala is a green strip of land, in the South West corner of Indian peninsula. It has only 1.1 8 per cent of the total area of the country but houses 3.43% of the the country's population.

In 1956, when the states were reorganized, Kerala was formed after tying the princely states of Travancore and Cochin with Malabar, a province under Madras state.

Kerala may be divided into three geographical regions: (1) High lands, (2) Midlands and (3) Lowlands. The Highlands slope down from the Western Ghats which rise to an average height of 900 m, with a number of peaks well over 1,800 m in height. This is the area of major plantations like tea, coffee, rubber, cardamom and other spices.

The Midlands, lying between the mountains and the lowlands, is made up of undulating hills and valleys. This is an area of intensive cultivation. Cashew, coconut, areca nut, cassava (tapioca), banana, rice, ginger, pepper, sugarcane and vegetables of myriad varieties are grown in this area.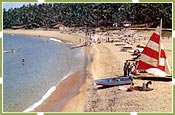 It is a purified world in Kerala, the land of trees. A big, spreading tree purifies as much air as a room air-conditioner. And the former is never switched off. The prolific, bustling, vegetation acts like a massive, biological, air-filtration plant working round the clock, round the year. Hence spending days in Kerala countryside is as if spending in an air- purified environ; some times better than it. So is the rejuvenating effect of the lush greenery of the state.

The wanton growth of trees makes Kerala a herbarium. The four month-long, copious monsoon and recurrent flurry make this land a perfect nursery for all living beings. Loitering under the canopy of the foliage, you will feel blossoming the dreams. Thus, on a sojourn in Kerala, away from the rough and tumble of cities, you're breathing freshly purified air all the time.

Another piece de resistance of Kerala is the meandering rivers which criss-cross the state physique like blood veins. Besides, water bodies tucked away in thick forests also enhance the amazing beauty of the state. They fertilize the' land, turn waste into the wealth of the rich, black, alluvial soil on which the agrarian state thrive.

The Lowlands or the coastal area, made up of river deltas, backwaters and the Arabian coast, is essentially a land of coconuts and rice. Fisheries and coif industry constitute the major industries of this area.


Kerala is a land of rivers and backwaters. Forty-four rivers (41 west-flowing and 3 east-flowing} criss-cross the state physique along with countless runlets. During summer, these monsoon-fed rivers will turn into rivulets especially in the upper parts of Kerala.

Backwaters are an attractive, economically valuable feature of Kerala. These include lakes and ocean in lets which stretch irregularly along the Kerala coast. The biggest among these backwaters is the Vembanad lake, with an area of 200 sq km, which opens out into the Arabian Sea at Cochin port.

The Periyar, Pamba, Manimala, Achenkovil, Meenachil and Moovattupuzha rivers drain into this lake.The other important backwaters are Veli, Kadhinam kulam, Anjengo (Anju Thengu),Edava, Nadayara, Paravoor. Ashtamudi (Quilon)



Flora: Kerala has over 25% of India's 15,000 plant species. Among them include endangered and rare species, flowering plants, fungies, lichens and mosses. The state's forest wealth include tropical wet evergreen, semi-green and tropical most deciduous. Teak, Mahagoney, Rosewood and Sandalwood are common, the forests abound with orchids, anthirium, balsam, and medicinal plants. banyan figs, bamboo as well as 40,000 years old grasslands. Mangroves are seen in coastal areas and low, morass lands. So fertile is the state, thanks to rivers and dams that are replenished by copious rain in Western Ghats.

Kerala, India's most advanced society: A hundred percent literate people. World-class health care systems. India's lowest infant mortality and highest life expectancy rates. The highest physical quality of life in India. Peaceful and pristine, Kerala is also India's cleanest State.

Kerala Travel : History of Kerala, Kerala Districts, Backwaters Kerala, Monuments Kerala, Beaches in Kerala, Wildlife in Kerala, Kerala Ayurveda & Spa, Pilgrimages in Kerala, Houseboats in Kerala, Hill Stations in Kerala, Festivals in Kerala, Kerala Art & Culture, Kerala Calendar Events, Map of Kerala, Kerala Tours, Kerala Hotels & Resorts